Welcome Onboard
Designed and custom built in Mauritius by leading yacht developer Rayvin Yatchts Ltd, the Turtle Cruiser is an innovative high- performance Power Catamaran, the first of its kind to grace the shores of the island in 2015.
Anchored on the picturesque northwest coast of the island, in the secluded cove of Turtle Bay, across the shores of Angsana Balaclava Mauritius resort, Turtle Cruise features pampering butler service, refined cuisine, and state-of-the-art marine technology, promising a one-of-a-kind journey of relaxed luxury at sea.
FEATURES
Crafted with luxury, performance and safety in mind, the Turtle Cruise is recognized for its stylish design, as well as for its fast manoeuvrability. With a draft of just 0.4 metres and equipped with two high torque of 115 horsepower engine, the catamaran is a dream to navigate at sea. This power catamaran is equipped with state-of-the-art navigational technology and safety devices, including top-class GPS and fish-finder technology.
The cruise features a covered U-shaped area that comfortably seats 18 passengers, front open air seats and trampolines, a diving platform and spacious interior bathroom facilities. It also comprises a bar, removable tablets and a superior surround sound-system. These make the multifunctional vessel ideal for luxury charters, adventurous sight-seeing excursions, exclusive private events and laid-back sundowners in the Mauritian Lagoon.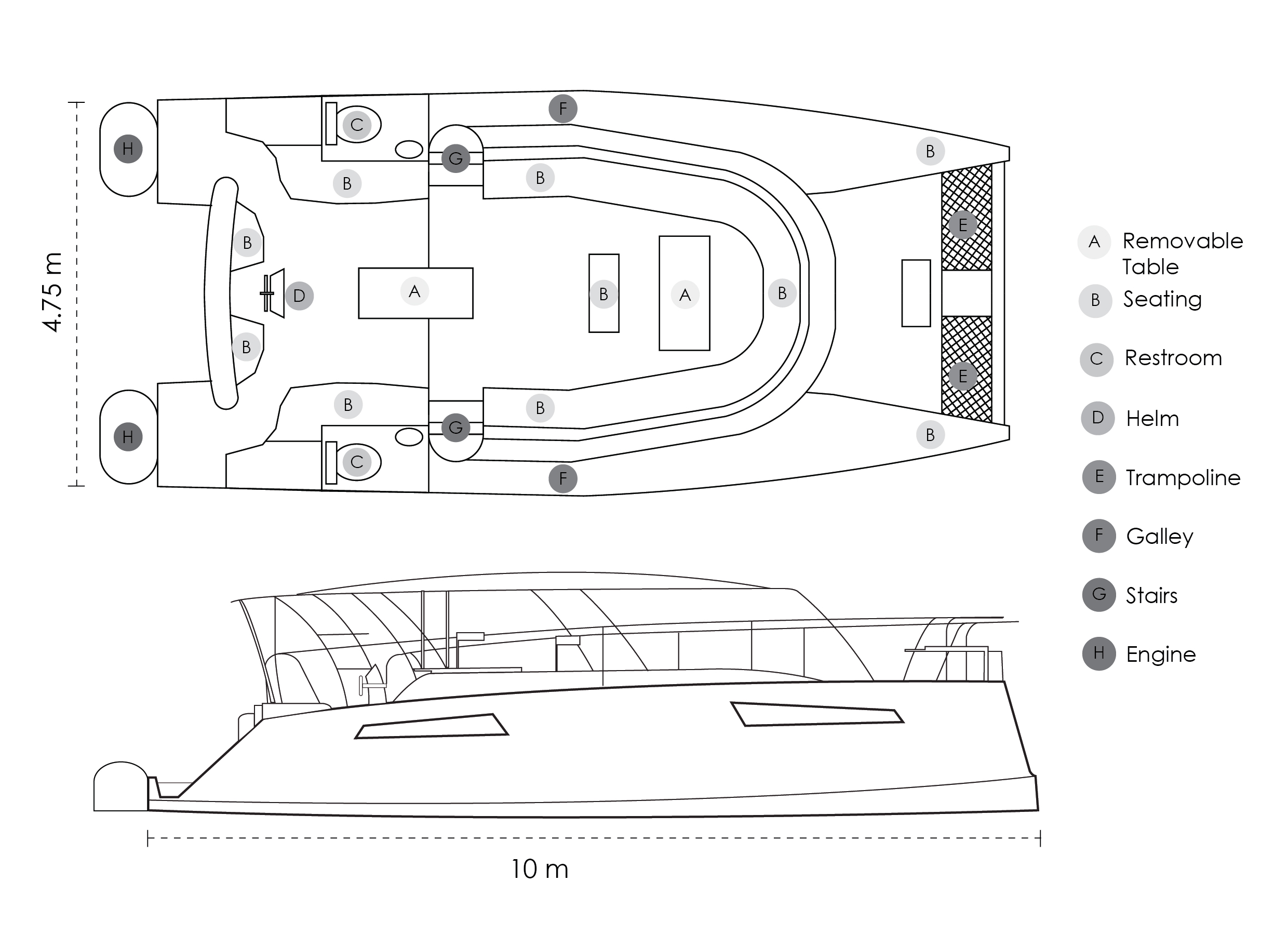 Onboard Amenities
Wooden bar
Diving platform with swimming ladder
On-deck gas BBQ grill
Large covered cockpit and seating area
Superior sound system: GME 140 watt coaxial marine speakers and Bluetooth sound system
Top class GPS and fish-finder technology: Garmin echoMap 70s
Two trampolines and sundecks ideal for relaxation and sunbathing activities
Two removable tables ideal for serving breakfast, lunch or canapés
Two single cabins
Two toilets and fresh water shower facilities
Snorkelling equipments (available in adult and kid size)
Fishing rods and fishing rod holders
Swimming accessories: buoys, beach ball, inflatable mattress, etc
Deployable transparent plastic tarp to shelter guess from increment weather
Technical Details
Type: Power Catamaran
Model: Rayvin 330
Designer/Manufacturer: Rayvin Yachts Ltd
Overall Length: 10 metres
Beam: 4.8 metres
Draft: 0.4 metres
Displacement: 4000 kg
Load Carrying Capacity: 2000 kg
Berths: 4
Licensed Seating Capacity: 18
Engines: 2 X 115hp Evinrude V4 E-Tec engines
Water Capacity: 150 L
Material: Fibreglass and Balsa Core
Year of Construction: 2015
Safety Equipments
SOLAS approved life-jackets (for adults & children)
VHF radio
Life buoys and throw lines
Fire extinguishers
Emergency flares and beacons
Torch
First aid kit
The Captain and Skipper also carry a mobile phone at all times